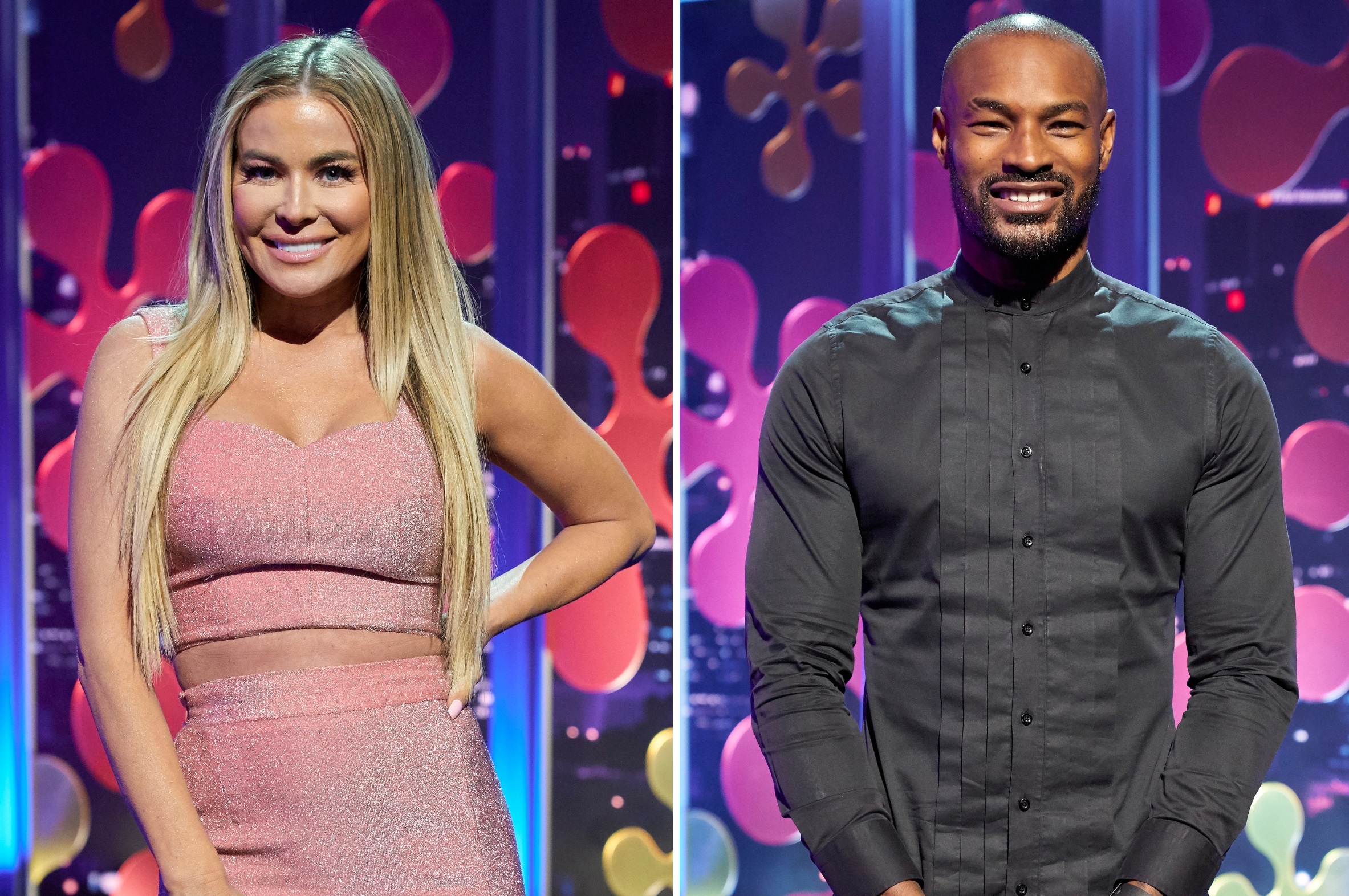 Who Carmen Electra and Tyson Beckford chose
Carmen Electra and Tyson Beckford stepped up to the plate and had a crush on last night's edition of The Celebrity Dating Game on ABC.
They aren't the first celebrities and won't be the last to try and date in the current series, which is hosted by Zooey Deschanel and Michael Bolton.
Electra had a choice of three singles and Beckford three singles, and with the help of the hosts, they both chose a suitable unsung love match.
Who did Carmen Electra choose from? The Celebrity Dating Game?
Actress, model and singer Electra has had many high profile romances throughout her career, but The Celebrity Dating Game gave him a chance to find a partner with less attention on them.
Her picks on last night's show included marketing director Nathon Verdugo, real estate agent Mark Harris and amateur athlete Daniel Colvin.
Throughout her segment, Electra asked the guys to describe themselves as a roller coaster, their perfect parties, and asked them, since she is known by a stage name, what their stage names would be.
During a regular segment, Bolton serenades the studio with a classic song whose lyrics have been altered to reflect stardom. This is done to give candidates clues as to the identity of their mysterious interrogator. Bolton sang "Ain't No Sunshine" by Bill Withers, but replaced the sun with the words Playboy and Baywatch.
Verdugo guessed Electra's identity, while Colvin assumed it was Pamela Anderson.
Ultimately, Electra chose to date the number 2 contestant, Mark Harris. She admitted that he looked "a little too perfect and I feel like he's hiding something."
Who did Tyson Beckford choose for The Celebrity Dating Game?
Actor and model Tyson Beckford was the other celebrity looking for a partner on ABC The Celebrity Dating Game. He said he was looking for an adventurous woman who has a great sense of humor.
He had a choice of three women: orthodontic technician Justina Caputo, behavioral therapist Anisa Farrow and yoga teacher Nicole Niestemski.
Beckford asked the three of them what their go-to outfit would be with two of them saying bikinis, but Anisa said it would be one of her t-shirts. He also asked what their wedding vows would be, but Beckford's questions got hotter when he asked the candidates what treat they would be and how he would eat them.
Giving contestants clues as to Beckford's identity, he sang "I'm So In Love With You" by Al Green.
In the end, Beckford chose to date Justina Caputo.
Who else is on The Celebrity Dating Game?
Previous famous faces that have appeared in the current series of The Celebrity Dating Game include Iggy Azalea, Taye Diggs and Carson Kressley.
The next episode of The Celebrity Dating Game is due to actor David Koechner and athlete Rashad Jennings. After that, some funnier famous people arrive as Chris Kattan and Margaret Cho look for a date.
The next episode of The Celebrity Dating Game airs on ABC on Monday, July 26 at 10 p.m. ET.